Does your pooch need a new bed? If so, here is a guide to help you pick the perfect bed for your pup that both of you can feel good about! Each brand is either entirely eco-friendly or has a line of eco-friendly dog beds. Many of these use fillings made of post-consumer plastic water bottles, while others use the highly renewable material, hemp.
We own three of the eco-friendly dog beds listed, so you can get our personal opinion on them. I hope this guide helps you and your dog find the perfect bed to fit your style while helping to keep our environment a cleaner, happier place!
BecoPets

BECO PETS DONUT BED (color piccadilly blue) is made with four pillows shaped into the sides so it's easy to get comfortable. It's also made with double stitching and a thick foam pad. The Donut bed is tough and durable as well as being fully machine washable. Beco Pets also carries a mattress bed for dogs who like to stretch!
• All Beco Beds are stuffed with up to 90 recycled plastic bottles.
• The covers are made from natural hemp fibres the Beco Bed is hypoallergenic, antibacterial and odour resistant!
• The stuffing wicks moisture, and insulates while the fully removable covers are extremely durable and hard wearing.
Sampson Approved! Originally I purchased the West Paw Montana Nap Bed (more info below) for Sampson, however it turns out he loves his pillowed sides. He sleeps in this bed every night whether he wants to curl up in a ball or hang off the side, this bed is perfect for him.
The bed was hard to find in the US, Beco Pets is a UK based brand. I ended up getting it through Christie's Direct and it shipped from overseas. Surprisingly, it wasn't too pricey and arrived quickly, and although I paid a little bit more, it was worth it.
.
West Paw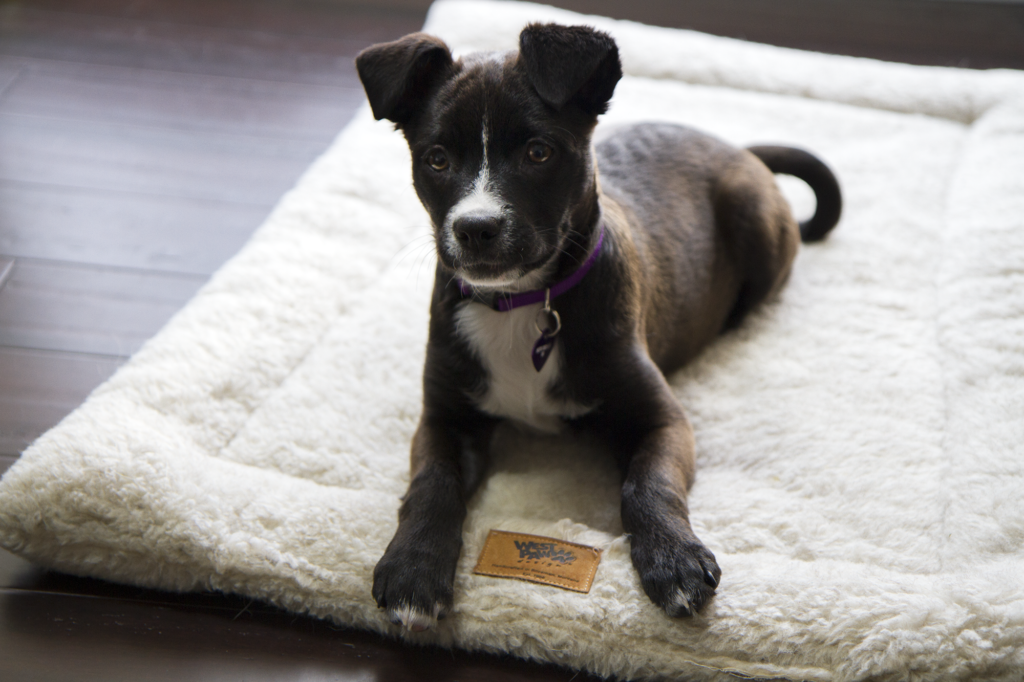 WEST PAW MONTANA NAP (color oatmeal) is a durable dog mat tough enough to withstand chewers yet light-weight so it travels easily. It fits comfortably in crates and in the back seats of cars to help keep upholstery clean. This is perfect for people who love to travel with pets. It's available in many colors and patterns to fit your pet's style.
• Handcrafted in Bozeman, Montana using only American-made textiles.
• Filled with IntelliLoft® fiber and fill derived from recycled plastic.
• Easy to clean – machine washable and dryer safe.
This bed hangs out in the back seat of my car, its new official spot after Sampson decided he needed the sides on his bed. Which by the way, West Paw does carry the HEYDAY BED that has pillow sides. I like this because it's travel friendly, hence why it's in my car. The dogs can sit or lay on it when we travel places, and it's machine washable so even after their dirty paws make a mess on it, the clean up is easy!
If your dog is in need of a blanky, West Paw carries their BIG SKY DOG BLANKET, a silky soft fleece throw available in many color options.
.
.
Majestic Pet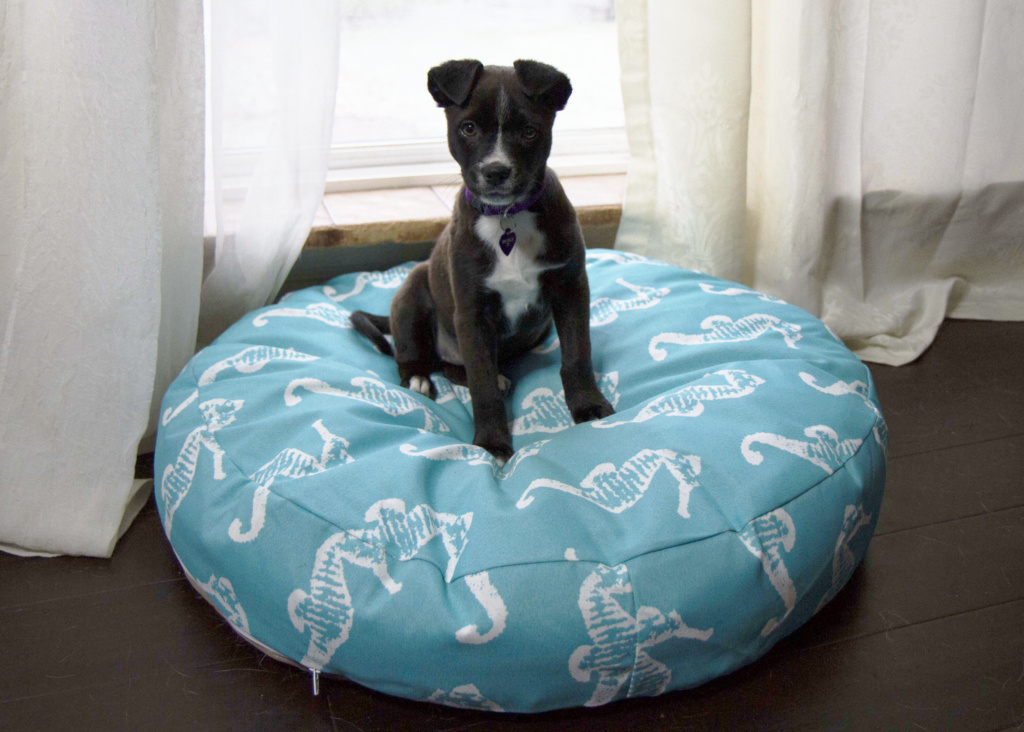 MAJESTIC PET ROUND PILLOW BED (teal sea horse) is a perfect combination of style, function and comfort. These beds are for those who need durable, weather proof beds. Since they are waterproof, they make great beds for potty training puppies. To wash, spot clean the slipcover with a mild detergent and hang dry. Liquid run right off the slipcover.
• Features a removable zippered slipcover that is woven from durable Outdoor Treated Polyester, with 1000 hours of UV protection.
• The base of the bed is made of heavy duty waterproof 300/600 Denier fabric, which allows you to move your pet wherever you are, inside or out.
• The best part, each bed is filled with a super plush fiberfill made of recycled water bottles that provides ample amounts of comfort.
Normally I stick to the earth tones and simple designs (which majestic pet has a variety of patterns and solid colors in their eco-friendly line), but I decided to step out of my comfort zone with this one. I specifically got this for Maya, but she sleeps in our bed so this bed actually hangs out in our living room. It is used as a buffer for parkour, a sitting cushion to look out the window, and somewhere to chew a bone.
Although it doesn't serve as it's original purpose (not because it's a bad bed but because Maya likes to sleep in our bed), I would recommend this bed to anyone with a potty-training pup. True story, as soon as I took this out of the box when it arrived, 10 week old Maya peed on it. The pee literally rolled off and I just had to wipe it down with cleaner, so easy to clean up!
.
.
Harry Barker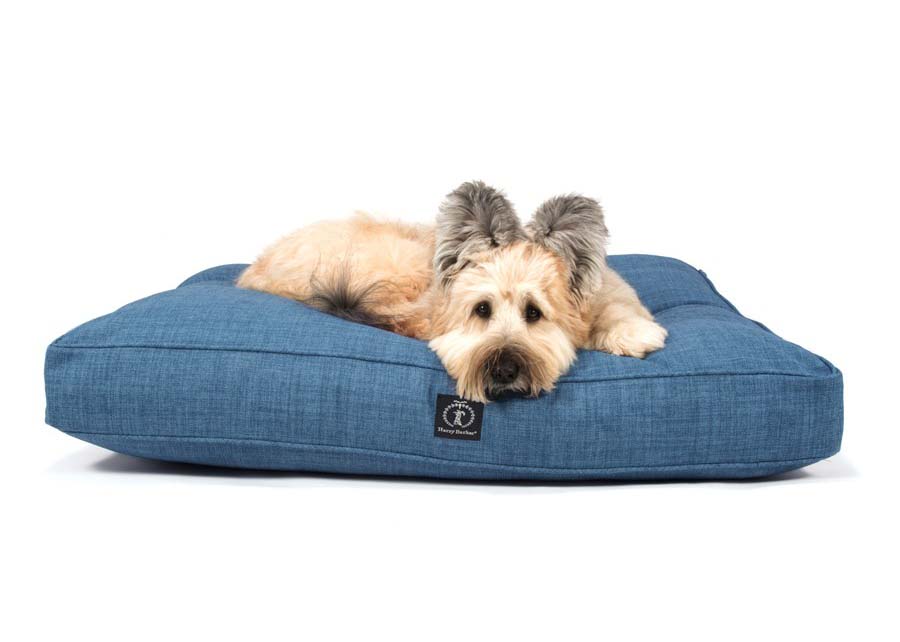 HARRY BARKER BEDS are sustainably made luxury beds. From charming dog toile, playful leopard, vintage stripe, classic stripe or tweed, there are so many options! Each are made with durable exteriors and stuffed with an eco-fiberfill made from 100% post-consumer recycled plastic bottles. The bed covers are machine washable, making them easy to clean. Harry Barker beds are available for personalization too!
.
.
Big Shrimpy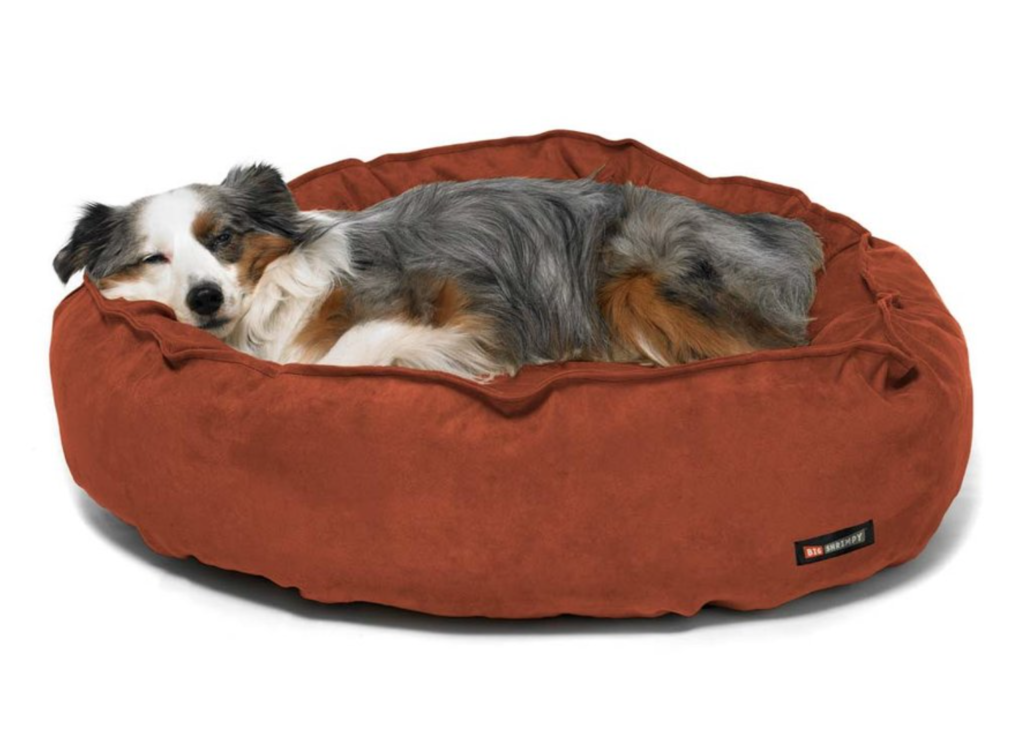 BIG SHRIMPY BEDS were created after founder Bruce Keller saw fabric scraps going to waste while visiting a sewing factory. He realized he could use the fleece fabric scraps to fill a dog bed for his girl Maggie (aka Shrimpy). The fleece scraps have gone away along with the sewing industry so now they fill their beds with polyester fiber made from recycled plastic bottles. SmartFill is completely machine washable and dryable, just like the other components of Big Shrimpy beds.
Big Shrimpy builds products that last. Even though they use synthetic materials, the beds last a long time. This means fewer beds going into landfills. They also sell replacement parts so the consumer can replace a component of the bed (if it is damaged by a pet or just finally wears out after years of use) rather than throw a bed away and buy an entire new bed.
Lastly, Big Shrimpy offers the consumer the option of recycling his or her Big Shrimpy, Mosier Valley or Mariposa bed (these are the three brands) via their FULL CIRCLE RECYCLING PROGRAM.
.
.
.
Cycle Dog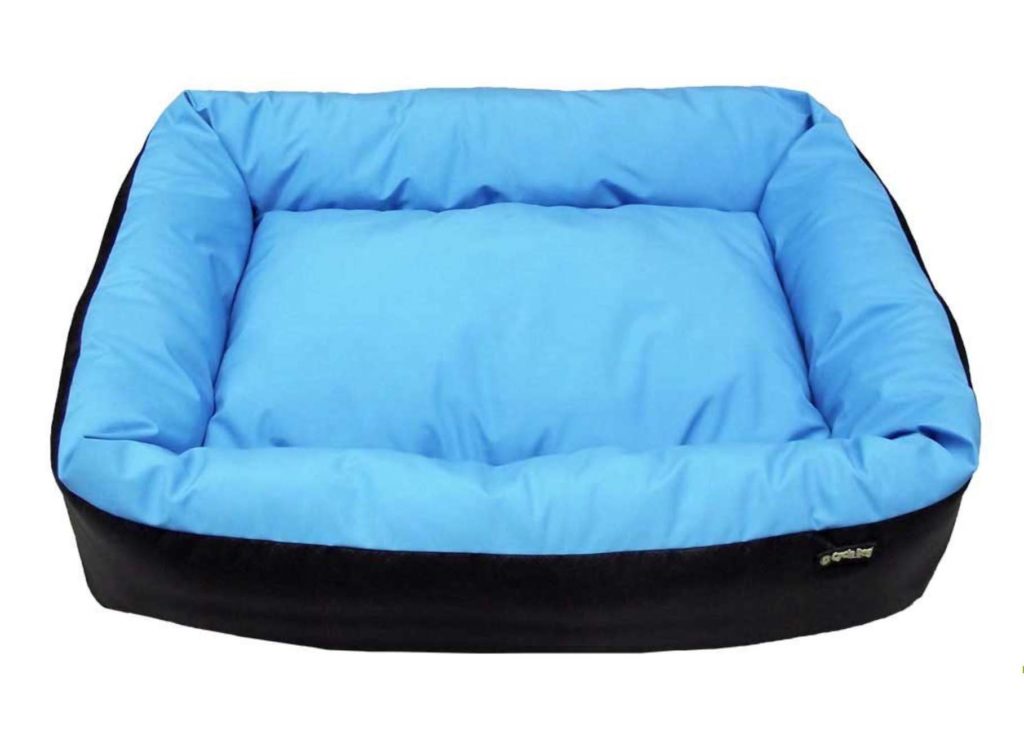 CYCLE DOG BEDS are waterproof and chew resistant beds in bright, bold, neon colors if that's more your pooch's style! Cycle Dog's goal is to create the world's best dog products with a focus on the environment and to raise awareness of the millions of bike tubes thrown into landfills every year. Since 2009, their hand sewn products are proudly made and tested in Portland, Oregon.
Cycle dog uses post-consumer recycled water bottles to fill each bed. The beds are also easy to clean by either wiping clean or tossing in the washing machine. The Waterproof Barrier Nestle and Layout Beds are made of waterproof materials combined with Anti-Bacterial and Anti-Mite Treatment, and their Duraplush Chew-Resistant Beds are soft but tough made with double stitched turned seams.
.
.
.
Earth Dog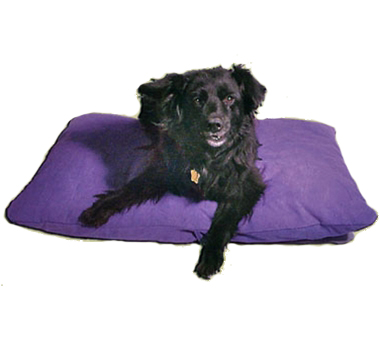 EARTH DOG HEMP DOG BEDS are constructed with a 100% hemp canvas shell. The removable, washable inner bags are 100% unbleached cotton and stuffed with a mixture of recycled poly-cotton and scrap foam otherwise headed for landfill that won't ball up and stays fluffy. These machine washable, hypoallergenic dog beds soften with time, making them a wonderfully comfortable resting place.
They have cute collars made of hemp available on AMAZON.
Disclaimer – this post contains affiliate links.